MGIS content is constantly enriched to improve documentation of the Musa germplasm, with a focus on the Bioversity International Musa Germplasm Transit Centre (ITC) in Belgium. Eleven new accessions have been added to the ITC collection, among which 7 accessions that were collected during a 16-day in October 2016 on the islands of Bougainville, Buka and Sohano in the Autonomous Region of Bougainville, Papua New Guinea (PNG), report available here. It also includes the first accession ITC1951 from the collecting mission to Rarotonga and Aitutaki, Cook Islands in May 2019, report available here.
We have also updated the collection of Agricultural Plant Genetic Resources Conservation and Research Center from Sudan with characterisation data for their 358 accessions.
In addition, Genesys was updated with the latest introduction and changes on the already introduced.
For all field verified accessions  tagged True-To-Subgroup (TTS) or True-To-Type (TTT) by the Taxonomical Advisory Group (TAG), photos and data (when available) captured by partners have enriched the corresponding ITC passport data. Currently, this concerns 296 accessions with 10 or more photos, 185 accessions with 2 to 9 photos and 197 accessions with only 1 photo (mainly provided in 1997)
From these field verified accessions, 100 have been updated on Genesys with good quality photos.
Publications
In addition to the data, MGIS provides links to research papers in which ITC accessions are included in the studies.
So far this year, seven such papers have been added to MGIS, comprising:
2 phenotypic studies:
5 genotypic studies:
As usual, at the bottom of the article summary you will find the list of ITC material and can add these accessions to your list for downloading passport data or for requesting the available accessions directly online.
In Situ Observations
In our effort to enrich information related to Musa spp. MGIS is connected or integrate other existing datasets. One of this dataset managed by Christophe Jenny from CIRAD is based on observations of Musa plants made by anyone in the framework of the project called "Banana natural diversity mapping" hosted on iNaturalist web site. Presently Christophe enriched the iNaturalist observations with data from other resources, such as scientif papers, Flickr photos for example. The objective of this module is to search and map observations and in a second phase to use this dataset to get a better overview of Musa spp. distribution at last crossing ex-situ and in-situ data could help to identify gaps in ex-situ collection. You can access to the module here.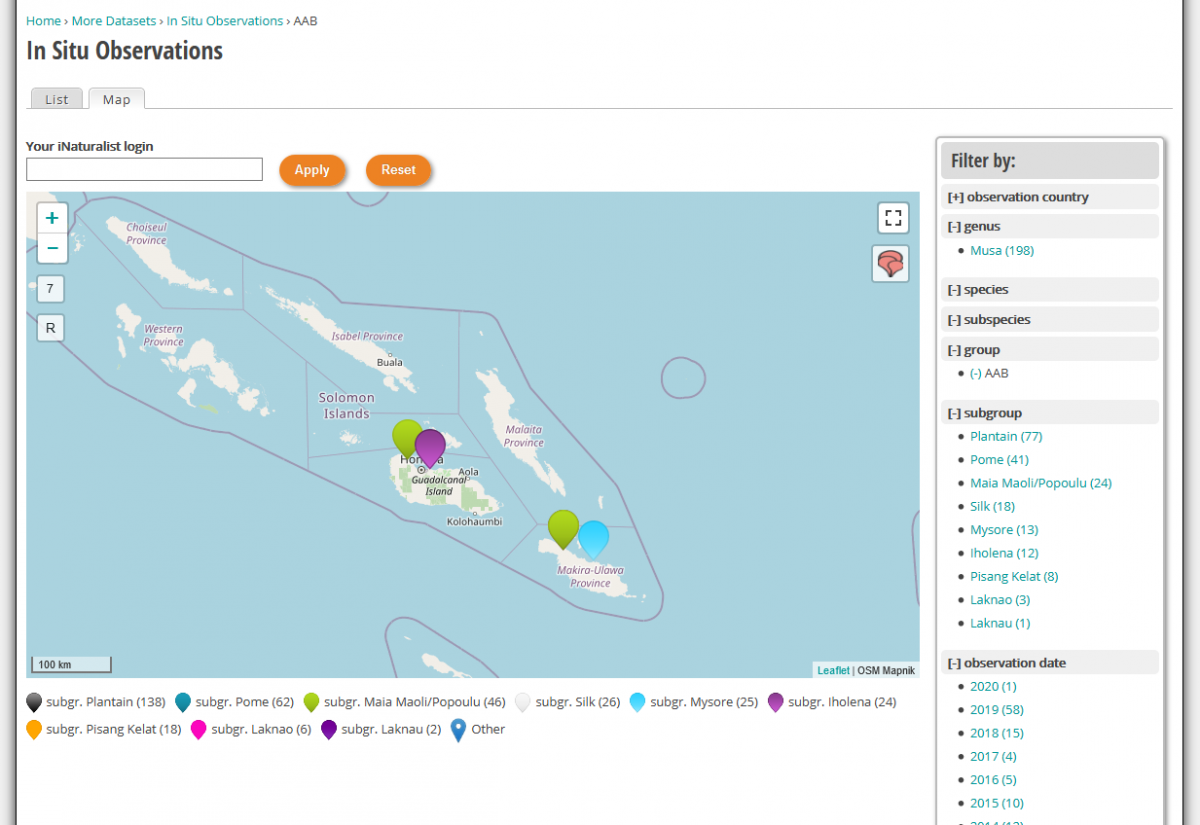 Have a time good banana browsing,
The MGIS team